New: Do It Yourself Page!

I have decided to add a "Do It Yourself" page to my site. So far there are only 2 DIY (Do It Yourself's) but I plan on adding many more things to do. Save big money by making your own versions of the big money products!

The kind of things that will be going on this page will be free or close to free, and are aimed at the average rider who doesn't exactly have their own CNC machinery, meaning just about anyone can do these mods!

So go take a gander at the all new "Do It at Home" page!
My bike!
I got my DRZ400E last April, 2001. It was brand new and seemed good enough for me...then I got hooked on buying after market parts.
Some of the things I have:
N-Style Graphics and gripper cover
Maier frame gaurds, black, look like shit now
White Brothers E-Series (Pro-Meg) silencer
Bajadesigns Skid plate
Seal Savers
TAG T2 bars, CR hi bend
Pro-Taper top clamp, adj. mounts
Acerbis Front disc cover
Dunlop D606 front/rear (for the street)
MSR Steel radiator gaurds
Moose Bark Buster hand gaurds
CFC Case savers, via Thumpertalk.com
Jetted to 160 MJ, 48 PJ, EKP/DXP needle, 2 turns of fuel screw, homemade PowerNow and Taffy modded to .025"/1/2 second duration of "squirt".
The jetting alone made a big difference in throttle responce, then the pipe gave it more boost especially in the mid-top RPM.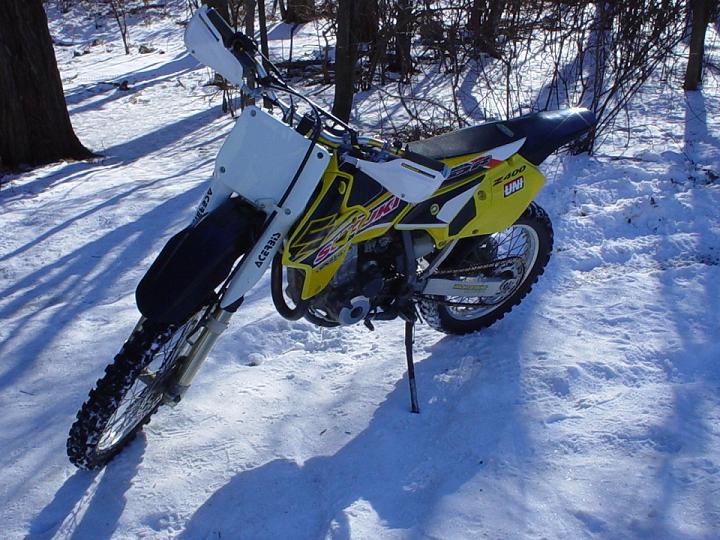 Questions? Comments? See the contact page