Mods I have done to the KDX200!!!
Stock Needle at 4th clip
158 mj
45 pj
Dunlop D756 rear, 100/100-18
Dunlop K139 front, 90/90-21
WP Gold chain
Renthal 50t rear sprocket
Talon 13t front sprocket
Pivot works swingarm bearing kit
Renthal smooth finish bars
Scott Hurracane Grips, black/soft
EBC pads fnt/rr
UFO headlight
Maier side panels
Bridgestone heavy duty tubes
UNI airfilter
Swingarm Painted silver
Pro Circuit pipe
EBC Clutch springs
K&L Fork Seals
Custom seat cover
+2mm overbore Wiseco piston is almost done.
The cylinder should be back to me by March 14, bike running by the 15th hopefully.
What to do with your new DRZ400K/E
Well you just got you're new DRZ400E or Kicker. What to do now?

There are a few things that you should do to the bike for better performance and reliability.

1) Grind down sharp edge on shifter.

2) Remove seat and pull out rubber "Snorkle" on top of airbox.

3) Drill out the stock endcap to a 1 and 3/8 inch hole with the respective size whole saw bit.

3a) If noise is not a problem, drill some more holes in the internal baffles within the stock muffler. When you take off the endcap you will see a big plate with a hole in it, that's where the exhaust gasses come out. You will need a pretty long drill bit to do so, but a few 1 inch holes would really increase the flow of exhaust gasses and noise levels.

4) Throw in a 155 or 160 main jet. If at sea level, 160 works good. If higher than 1.5k feet or so, then the jet sizes will have to be smaller.
(Also put in a 48 pilot jet and move the needle to the 4th or 5th clip position (near the bottom of the needle))

5) Get some new handlebars as the stockers are too low. Jimmy Button bends by Renthal are the tallest, but basicaly any bend will be better. CR high and Kevein Windham are also good.

6) CFC off road makes glue on side cover protection, as the stock ignition and clutch covers are magnesium and very soft, easy to poke a hole through them with a lever in a crash!

7) I personally recommend some handgaurds. Don't get the MX "flag" type, they are weak and don't protect the levers. Bark Busters work good and are pretty cheap.

8) Again a personal suggestion, a skid plate is VERY good protectioin to have. White Brothers makes a very good skid plate for about 75 bucks I think, mounts to the the original holes. Baja Designs has the same plate for , but it is clamped to the frame rails (a pain in the ass to remove/install)

9) If you are a "vertically challenged" rider, there is a thing called a Kouba link. It replaces the stock 'dog bones' on the linkage lowering the seat about 2 inches. You must also lower the front end by raising the forks in the clamps so it rides nice and level.

9a) Suzuki makes a "low" gel seat, complete for about at the dealer. If you are cheap like me just use an electric turkey carver to shave some foam off the stock seat. Trace out the shape you want FIRST so you have a guidline.

10) Don't forget to ride the damn thing!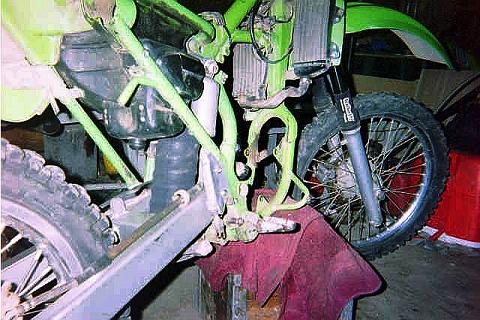 Not much power now